05

Ease of living with top-class wellbeing
Nagano is extremely popular for people wishing to relocate.
Short commute times lead to relaxing daily life.
Robust and high-quality childcare and education environment.
Contains the most number of forests in Japan to help soothe your worries. Provides lifestyle close to rich natural surroundings.
Ease of living is directly linked to the ease of work felt by employees.
Enriching the lifestyle of employees can lead to improvements in productivity.
A second home
Ranking of most desirable prefectures to move to

1st in Japan for 15 years running
Inaka kurashi no hon (Book on country living, Feb 2021) published by Takarajimasha
Ranked among the highest in Japan in a survey on relocation consultation by the Hometown Return Support Center and Ministry of Internal Affairs and Communications.
Relaxed atmosphere that is conducive to happiness.
5th in Japan

in the level of well-being
2020 Nenban Zen 47 Todofukenbetsu Kofukudo Rankingu (Ranking of Level of Well-Being by 47 Prefectures, 2020 ed.) Japan Research Institute
Average commute time

Average time to return home

Rate of house ownership
Childcare conducive environment
First in Japan

First in Japan to establish certification system for Shinshu Natural Nursery Schools

210 certified groups (as of April 2020)
Medical expense subsidies regardless of household income

for all municipalities 

Expansion of all municipalities medical expense subsidies for children up to graduation from junior high school regardless of household income
1,372 businesses registered as declaring

their support for the childcare of employees

(as of December 2020)
Lifestyles that allow for an appreciation of nature
Number of forests that have therapeutic effects

1st in Japan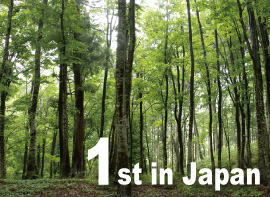 Click here for more information on living in Shinshu(Japanese)