04

Diligent and abundant human resources
The job placement rate is high among both men and women.
There are high local area employment rates, and a low turnover rate.
A high-quality labor force is available among the inherently diligent and focused people of Nagano.
Nagano also features numerous educational institutions that produce a diverse set of professionals and help cultivate engineers and other talent with global perspectives.
Businesses can expect to find talented professionals within Nagano Prefecture. Nagano will make possible the stable expansion of your business by providing a suitable site to train professionals over the long term.
Job placement rate
68.0%

of men

1st in Japan
50.6%

of women

2nd in Japan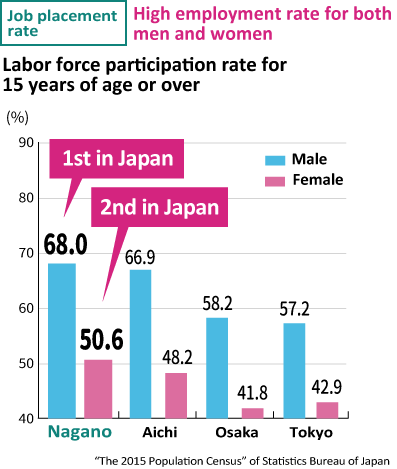 Local area job placement rate
Job placement rate of high school graduates inside their prefecture

90.1%

8th in Japan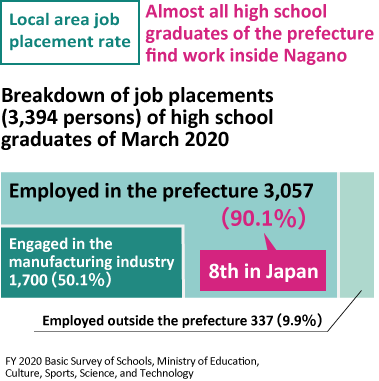 Low turnover rate
13.7%

prefecture-wide turnover rate

Ranked as low as 13th in Japan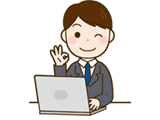 2019 Survey of Employment Trends, Ministry of Health, Labour and Welfare
Balanced work and family life
32.8%

dual-income household rate

5th in Japan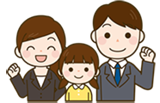 Statistical Observation of Prefectures 2021
School lunch rate for public elementary schools

99.7%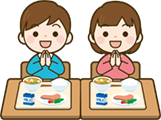 Survey on School Lunch Conditions 2018
Honest prefectural people
Stop rate at roads with a crosswalk with no light

72.4%

Japan average 21.3%

1st in Japan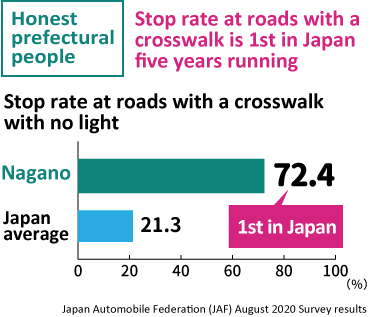 Educational institutions in Nagano produce a variety of professionals
There is a broad range of fields of study in Nagano. Learning is closely connected to the region, and business sites to provide strong support for job placement.
11

universities

(*)
8

junior colleges
1

technical college
53

vocational schools
*Beginning April 2021.
We fully support businesses in their recruiting efforts
Project to communicate the advantages of working in Nagano
The prefecture promotes job placement in Nagano by deepening the understanding of students moving on to employment both inside and outside of the prefecture by communicating the advantages of working in businesses here and by creating networking opportunities to both help businesses secure outstanding personnel to take on the industry in Nagano to revitalize the region.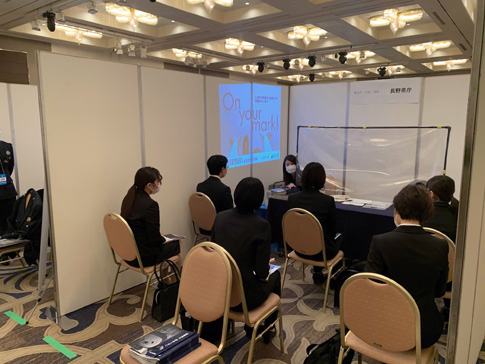 Shinshu Industry-Academia-Government Partnership Initiative
Nagano Prefecture carries out initiatives through industry-academia-government partnerships. It closely cooperates with the career staff in universities and junior colleges in Nagano to match students with internships in Nagano businesses.
Job placement relocating people from urban to rural areas; Support for relocation and business start-ups
For people relocating from the Tokyo area, Aichi prefecture, and Osaka prefecture, there is a relocation grant system managed jointly between the prefecture and municipalities providing a grant with a maximum of 1 million yen to help with moving costs for those employed through the job-matching site started and operated by the prefecture.