02

Home to many high-tech companies
Nagano is home to a concentration of assembly-industry businesses with expertise in precision machining and electronics.
Nagano is among the top class of prefectures in terms of the number of private research institutes.
Nagano promotes the concentration of businesses aiming to create the next generation of industry in healthcare, food, energy and environmental science, next-gen transport, and ICT.
Collaborative research and development and part procurement are also possible.
It is an optimum business hub to realize your firm's future and harness your latent potential.
There is a concentration of business with strong technical capabilities.
There are numerous companies concentrated here, with a strong core of assembly-based industries specializing in precision machining and electronics.

Leading Japanese products are created right here in Nagano. Industries with cutting-edge technology, such as electrical machines and general machinery, have gathered here.
80.2%share

22.839billion yen

Microscopes/magnifying glass shipment amountNo. 1 in Japan

45.3%share

2.929billion yen

Guitars (including electric guitars) shipment amountNo. 1 in Japan

28.3%share

1.593billion yen

Snow skiing, water skiing,
and skating goods shipment amountNo. 1 in Japan

26.5%share

35.708billion yen

Crystal oscillators (excluding use in watches) shipment amountNo. 1 in Japan

32.8%share

12.072billion yen

Pressure gauges shipment amountNo. 1 in Japan
2019 Industrial Statistics Survey (confirmed report)
A Leading Research and Development Hub in Japan
Nagano Prefecture has a highly-developed transport infrastructure allowing passage of people, goods, and information from all over Japan. There are numerous research and development facilities of listed companies.
Nagano Prefecture ranks 8th in Japan as a site for research institutes. (Total of Survey Results of Factory Location Trends from 2010 to 2019)
A variety of research goes on here a perfect business hub attracting the hopes of the world.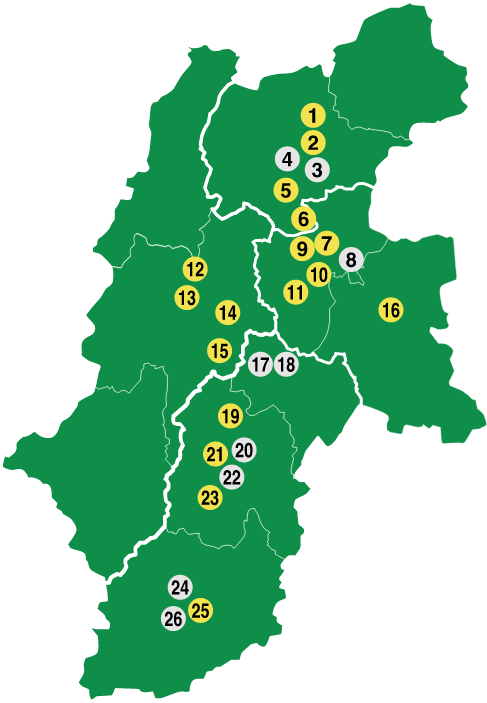 Mushroom General Research Institute, HOKUTO Corporation
SHINKO R&D Center, SHINKO ELECTRIC INDUSTRIES Co., Ltd.
JRC Advanced Technology Center, Japan Radio Co., Ltd.
Central Research Institute, Marukome Co., Ltd.
Product Development Research Institute, MK SEIKO Co., Ltd.
Research & Development Center, Nissei Plastic Industrial Co., Ltd.
Technology Research Institute, NISSEI ASB MACHINE Co., Ltd.
Nagano Development Center, Nissin Kogyo Co., Ltd.
HIOKI Innovation Center, HIOKI E.E. Corporation
Technology Center, SANYO DENKI Co., Ltd.
Technical Solutions Center, NAGANO KEIKI Co., Ltd.
Central Research Laboratories, Pharmaceutical Laboratories, Safety Research Laboratories, KISSEI PHARMACEUTICAL Co., Ltd.
Corporate Technology Strategy Center Matsumoto, AIR WATER Inc.
Development Supervision Dept., Electronic Device Division Headquarters, FUJI ELECTRIC Co., Ltd.
Epson Innovation Center, Seiko Epson Corporation
Chikuma Technical Center, SOSHIN ELECTRIC Co., Ltd.
Nagano Technical Laboratory, NIDEC SANKYO Corporation
Suwa Technology Center, Nichia Corporation
Product Development Center, YOMEISHU SEIZO Co., Ltd.
Ina Laboratory, Medical & Biological Laboratories Co., Ltd.
Ina Research Inc.
R&D Center, Ina Food Industry Co., Ltd.
Nagano Technology Development Center, Nidec Corporation
Spacetronics Laboratory, TAMAGAWA SEIKI Co., Ltd.
Sensortronics Laboratory, TAMAGAWA SEIKI Co., Ltd.
Food Research Laboratory, ASAHIMATSU FOODS Co., Ltd.
Technology Center, Natsume Optical Corporation
*Business with yellow numbers are listed on the First Section and Second Section of the Tokyo Stock Exchange and the JASDAQ.