01

Ideally located in the middle of Japan
Nagano is in the center of Japan and boasts excellent access, including expressways, Shinkansen and existing rail lines that run in all directions, and airports connecting to major cities.
The upcoming Linear Chuo Shinkansen will connect Tokyo and Nagoya in approximately 40 minutes. It will greatly improve access between Nagano and Tokyo, Nagoya, and when all the lines have opened, to Osaka as well.
Businesses can utilize the customs office in Nagano Prefecture to reduce the cost of and speed up distribution.
It enables the setting up of flexible businesses in close partnership with suppliers and affiliates in major cities.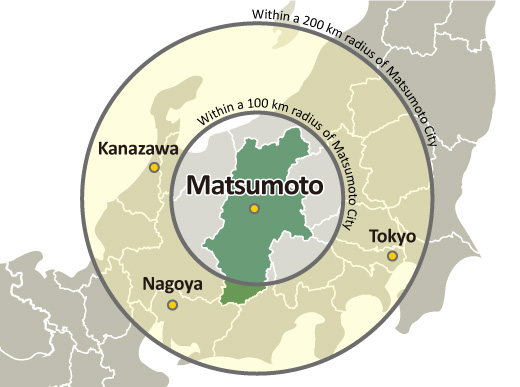 Access by train
It takes approximately 1 hour and 20 minutes from Tokyo to Nagano on the Hokuriku Shinkansen.
The second-largest city in Nagano Prefecture, Matsumoto City, is accessible from Nagoya in 2 hours.
*Travel time is calculated with the fastest train.
Nagano City—Tokyo

Approx.

1

hr


20

min
Matsumoto—Nagoya

Approx.

2

hr
Nagano City—Kanazawa

Approx.

1

hr
With the opening of the Linear Chuo Shinkansen, access to the Tokyo area, the Nagoya area, and the Kansai area will be further improved.
There are plans to build Nagano Prefecture Station (tentative name) in Kamisatoiinuma, Iida, Nagano, and this will greatly improve access from southern Nagano Prefecture to Tokyo and Nagoya.
Example travel time

| Route | Time |
| --- | --- |
| Iida City—Shinagawa | Approx. 45 min |
| Iida City—Nagoya | Approx. 27 min |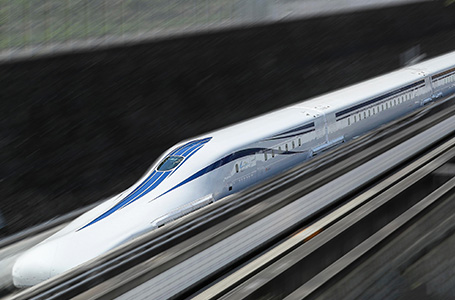 Scheduled opening in 2027
Access by car
There are expressways fully in place that run east-west and north-south in the prefecture.
The Chuo Expressway and Joshin-etsu Expressway connections outside of Nagano provide access to a large area including the three major cities of Tokyo, Nagoya, and Osaka.
Nagano City—Tokyo

Approx.

2

hr


30

min
Matsumoto City—Tokyo

Approx.

2

hr


30

min
Iida City—Nagoya

1

hr


20

min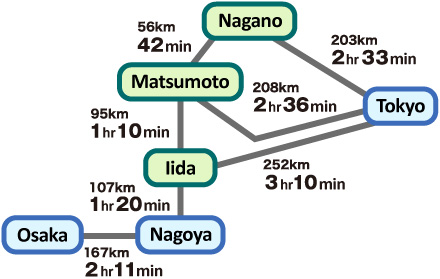 The large expressways make traveling more convenient.
Chubu-Odan Expressway
Improves access to Yamanashi and Shizuoka (Shizuoka City)
In particular, the Port of Shimizu, an international seaport, is close by in Shizuoka.
The advantages of Nagano Prefecture as a site for tourism and business relocation become clearer with these improvements to transport capacity and productivity.
San-en Nanshin Expressway
This national high-grade trunk road runs from Iida City in Nagano to Hamamatsu City in Shizuoka prefecture.
It greatly reduces the travel time required between southern Nagano Prefecture and the Aichi and Shizuoka regions.
Example travel time

| Route | Time |
| --- | --- |
| Saku City (Saku-Minami IC) —Port of Shimizu | Approx. 4 hr→approx. 2 hr |
| Iida City—Hamamatsu City | Approx. 2 hr 40 min→approx. 2 hr |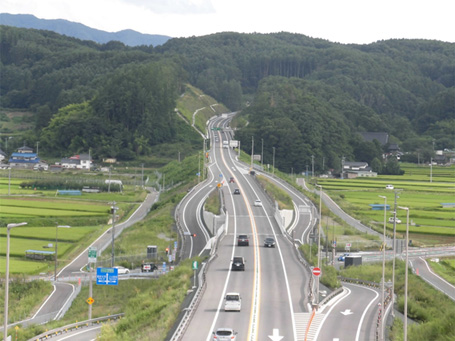 Access by air
The Matsumoto Airport in central Nagano Prefecture runs daily fixed flights between Sapporo (New Chitose Airport), Kobe and Fukuoka. International flights are available from Sapporo and Fukuoka. Travel to the Kansai International Airport from Kobe also allows for direct international connections. Nagano's sky network supports your business's growth.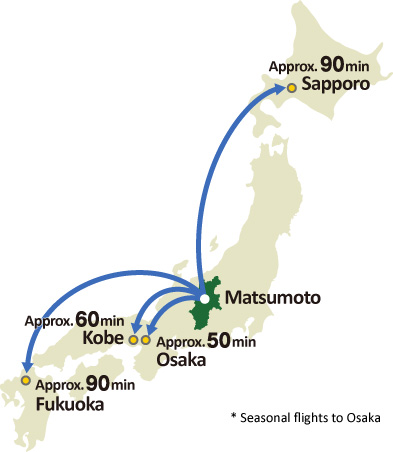 Customs in Nagano Prefecture
Nagoya Customs has a Suwa Branch Office in Nagano Prefecture, handling customs duties such as reviews, inspections, and duty collection in the import and export processes of air and sea freight brought into customs warehouses, as well as management and enforcement of bonded areas.
Main benefits of having customs available within Nagano Prefecture
Advantage 1

Increases logistics speed by avoiding cargo harbors and airports

Advantage 2

Decreases costs via exemptions from consumption tax

Advantage 3

Provides access to a wide range of transport routes
Direct inquiries to
Suwa Office, Nagoya Customs
Suwa Trade & Distribution Hall, 5336-2 Nakasuokoshi, Suwa, Nagano 392-0015
TEL:+81-266-58-5953